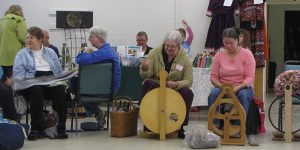 13 Reasons to Join a Spinning Guild
I credit the members of my own spinning guild, the Peachtree Handspinners Guild, with many things: friendship, inspiration and endless spinning instruction. Whether I am spinning away a lazy weekend afternoon among friends, listening to a fiber arts speaker or taking a class with a renowned spinning instructor, I know that spinning would not have happened for me at this level had I not met and joined up with this group. They provide me with endless fodder for ongoing articles and they cheerlead me on the sidelines when each one is published.
Have you found your tribe? In the Spring 2017 issue of Spin Off magazine, I write about the many benefits of joining a fiber arts guild. Read an excerpted blurb from my article, by clicking THIS link.