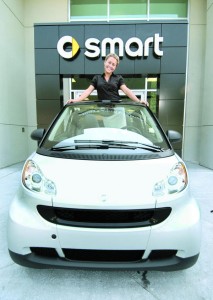 Atlanta Business Chronicle – by Deborah Held Maslia Contributing writer
Friday, June 20, 2008
In a city where the traffic is legendary, one little car is turning heads.
It is the smart car, the tiny vehicle that has been buzzing around Mercedes-Benz of Buckhead since January. The brand name "smart" stands for Swatch Mercedes ART, an homage to the colorful 1980s watches. The cars are similarly colored to the Swatch watches, and feature plastic panels that are interchangeable. But what makes these little cars red-hot is their size, their fuel efficiency and their tiny carbon footprint.
Built from mostly recycled and recyclable materials in an eco-conscious factory in Hambach, France, the smart car is 95 percent biodegradable, said Emily Stubbs, the brand manager for smart. Even the paint used on the vehicle's frame is water-based and applied in an innovative and energy-efficient manner. The car's brightly colored panels are interchangeable and made from recycled plastic, bringing an end to expensive body work. Perhaps best of all, the car boasts a rating of 33 miles per gallon in the city and 41 on the highway.
Atlantans are helping the local smart car dealership pave the way in national sales. From its new home at Mercedes-Benz of Buckhead, the Atlanta smart car dealership has sold more than 230 cars since its end-of-February opening, totaling more than $4 million in sales, said Stubbs.
Jerry Attkisson, a former real estate investor and a current fundraiser for mental health awareness, lives in Ansley Park, where at least half a dozen of his neighbors also own smart cars.
Attkisson and his wife own two.
"Part of the reason I like the smart is it just seems right for these times," he said. "We as a country have always consumed too much and left too much pollution in our wake."
Its that kind of thinking that attracted smart to Atlanta.
"Atlanta's a huge market for us," said Ken Kettenbeil, director of communications for smart USA. "It's a large metro area. It's a city where there are thought leaders and trendsetters and they are attracted to the smart car."
Kettenbeil ranks sales in Atlanta near the top of the current 69 dealerships. By the end of 2008, smart USA plans on having all of its planned
75 dealerships open across the country. According to Stubbs, more than 30,000 auto dealers applied for the 75 smart locations.
"This is not a trend," he said.
Nor is the clamor for the car a fad, said Kettenbeil.
"We have just under 9,000 cars out in the street with 30,000 people in queue for reservations," he said.
All this without any advertising efforts whatsoever and the first smart locations opening just this past January, including Atlanta. Going forward, as Americans tighten their belts and their wallets, Kettenbeil anticipates more drivers will purchase the smart car, whether as a primary or secondary vehicle. According to Stubbs, about 75 percent of owners use their smart brand vehicles as second cars, whether for their work commute, for tooling around the city on the weekends or just to turn heads.
"You're something of a local celebrity when you own a smart car," she said.
Stubbs said some of her customers leave their houses early just to deal with onlookers.
Another reason Atlanta is a strong market for the smart car is the fact that on any given day, it's a party of one in most commuters' cars. The typical Atlanta commuter has one occupant in the car, two, at most, said Stubbs. The luxury automaker is seizing upon this to help sell the concept fuel-efficient, eco-friendly car.
There is currently a 12- to 18-month minimum wait for delivery of a car from any of the 69 nationwide smart brand dealers, said Kettenbeil.
With the cost of gasoline hitting a record $4 a gallon and no end in sight to skyrocketing prices, Mercedes-Benz takes aim at urban dwellers and commuters with its eco-friendly car.
The car features specially designed full-size seats that sit high enough up to comfortably view the flow of traffic, along with optional features such as a panoramic roof, heated seats and an MP3 connection.
The core of the vehicle is its crush-proof tridion safety cell, which offers remarkable protection for its occupants in the event of impact.
"Proof that you can build a small car that's safe," said Kettenbeil.
The smart brand car was even awarded the highest ratings in front and side crash testing from the Insurance Institute for Highway Safety, said Kettenbeil.
The basic model starts at just under $11,600 and a loaded model tops out at $20,000. Despite its little size — the car is only 8.84 feet end to end — it is long on innovation. Designed to accommodate two occupants and their cargo, as well as offer urban mobility in tight city spots, the sporty coupe is all about the ecologically friendly life cycle.
"I really think this is the wave of the future," said Stubbs.