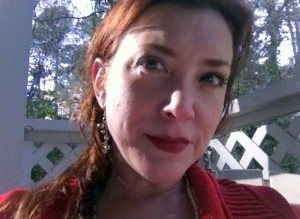 Journalist and wool junkie Deborah ("Debbie") Held has been putting a spin on words since 2005, when she launched a freelance career she has yet to quit.
Debbie's first 600 or so bylined articles were all business-focused: strategies, industries, trends, profiles and features (with many cover stories). This provided her with a skill she would need to survive the ups and downs of the economy: an ability to interview anyone.
Knowing what questions to ask others has helped Debbie to deliver solid content pages, marketing materials and eerily in-voice ghosted blog posts. (Plus, she's insatiably curious, so…)
In 2015, Debbie decided to merge her love of handspinning and all things wool-related with her world of words. Her articles may be found in Spin Off magazine (where is also a member of the magazine's readers' editorial advisory panel), PLY, and online with Schacht Spindle Company. She also writes handspinning-related content for interweave.com as well as the recurring Her Handspun Habit column.
In her (limited) downtime, Debbie can be found surrounded by her ever-growing stash of spinning fiber and related treasures, spending time at her spinning wheels, and walking her Italian greyhound, Iggy. They all live in the Atlanta area.